BioFeedback
Restorative Session with Dr. Jamie
The goal is for you to feel better. Dr. Jamie begins with listening to your concerns and goals. She uses a biofeedback machine, QUEX ED that sends small electrical signals through the body and listens to the resultant responses. With that information, she can see what the body is saying and begin building a plan to meet your health goals. Working with you individually, she applies a wide array of integrative wellness techniques to help you achieve your health goals.
What is Quantum Biofeedback?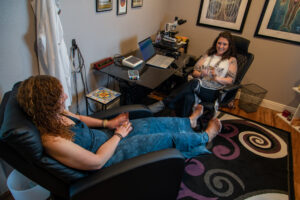 Quantum Biofeedback is a non-invasive therapeutic technology that energetically scans and harmonizes the body's stresses and imbalances. This is a scientifically proven method for reducing stress in the body. These stressors include allergens, bacteria, viruses, emotional stressors, and pains. The client is connected to the devices using a head band, wrist straps, and ankle straps. The biofeedback device measures the electrical reactions of the body and recommends stress reduction programs specifically suited to the client's needs. Dr. Jamie will explain the results and make suggestions that will support your body and your health goals.
Quantum Biofeedback has more than 40 years of proven scientific research behind it.
Experience Amazing with One Tree.